Friends for Life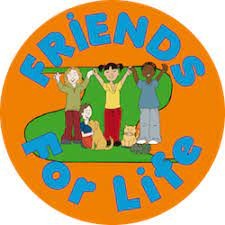 We are very fortunate to have staff who are trained FRIENDS for Life facilitators in our school. FRIENDS will be delivered in 5th & 6th Class this year.
​
The FRIENDS programme, developed in Australia, is a classroom-based programme shown to be effective in reducing the risk of anxiety disorders and building emotional resilience in children. Research indicates that up to 80% of children showing signs of anxiety no longer display those signs for up to six years after completing the programme. For children who are not anxious, the FRIENDS programme increases their level of self-esteem while reducing their feelings of worry.

In today's society children and their families are faced with a number of stresses and challenges on a day-to-day basis. Research has shown that children who are resilient (can bounce back and cope with day-to-day life experiences) are more likely to succeed at school, develop healthy peer relationships and are less likely to develop mental health problems. Given this information, it is important that we take an active approach in teaching children how to build their resiliency when faced with the stresses of life.

FRIENDS is an acronym for the skills learned in the programme:
F – Feelings
R – Remember to relax
I – I can try! I can do my best!
E – Explore coping plans and solutions
N – Now reward yourself
D – Don't forget to practice
S – Smile and stay calm for life


The FRIENDS for life programme is a well-researched and innovative programme designed to assist children, youth and their families to learn important life skills. The skills and techniques taught in the FRIENDS programme help children and youth to cope with stress and anxiety as well as learning to manage difficult and challenging situations. The word FRIENDS is used to teach skills taught throughout the programme (i.e. each letter stands for a new skill learned). The programme addresses mind (cognitive), body (physiological) and behaviour (learning) processes which are seen to interact in the development, maintenance and experience of stress, and anxiety. Children learn how to deal with difficulties, to recognise signs of anxiety, relaxation strategies for staying calm, to develop positive thinking, how to focus on solutions to problems and not the problems themselves, how to face their fears as well as learning conflict resolution strategies.


Parents and caregivers play a vital role in the development and maintenance of the skills taught in the FRIENDS programme. Each week of the programme, the children are introduced to specific skills to help build their resiliency. These skills need to be reinforced both in school and in the home environment in order for change to occur.


It is our aim that your child will both enjoy the FRIENDS for Life programme and will benefit from learning practical, useful skills for coping with stress, worry, fear and day-to-day challenges.


If you have any questions about the FRIENDS for Life programme, please do not hesitate to contact us.